"
You know, being me♥, it's pretty sweet. But only until I wash off my makeup★.
"
True Beauty (여신강림; Yeosingangrim, translated as Advent of a Goddess)[1] is a manhwa webtoon published on the LINE Webtoon comic service globally. The series follows protagonist Jugyeong Lim, who, after being bullied for her appearance, becomes a very skilled makeup user. When Jugyeong enters high school, she manages to convince others that her beautiful, made-up face is her natural appearance. Jugyeong befriends Suho Lee while in school: a wealthy, cold boy whom she runs into, bare-faced, at a comic book shop. She later meets Seojun Han, an aggressive student with a mysteriously good singing voice. The plot follows Jugyeong as she navigates her daily life and goal of becoming a cosmetologist.
The webtoon is authored by illustrator and former fitting model Yaongyi and began publication on April 2, 2018 in South Korea. Its English localization began in August of 2018, with certain regions receiving earlier releases under the name The Secret of Angel.[2] True Beauty is currently one of LINE Webtoon's most popular series and was green-lit for a drama adaptation in the summer of 2019,[3][4] with a release planned for Q4 2020.[5]
Official synopsis
After binge-watching beauty videos online, a shy, comic book fan masters the art of make-up, then sees her social standing skyrocket as she becomes her school's prettiest pretty girl literally overnight. But will her elite status be short lived? How long can she keep her "real self" a secret? And what about that cute boy she likes? Could you imagine if he found out the truth?[6]
Characters
This list is truncated down to only the more plot-relevant characters. For a complete list, visit Category:Characters.
Main
Supporting
Episodes
True Beauty currently has 117 episodes, with 106 of them translated into English. To view a complete list, visit the episode list, or the episodes category.
Drama
While the series' Korean release was on hiatus during the summer of 2019, a drama adaptation was confirmed. No further information about the drama was revealed upon the announcement other than its green-lit status that July. The announcement did, however, spawn a number of fan-made cast lists, though none have been confirmed.[4] The drama is planned for release at the end of 2020,[7] and the network is speculated to be tvN, though the latter is unconfirmed.[5]
Casting for the series began in the spring of 2020. The series' producer, Bon Factory, was also revealed, along with script writer Lee Sieun. Lee is known for the drama Ugly Miss Youngae (2007–2019). Idol actor Cha Eunwoo of Astro took the role of Suho Lee.[8] Actress Moon Gayoung took the role of Jugyeong Lim. Rookie actor Hwang Inyeop took the role of Seojun Han.
Trivia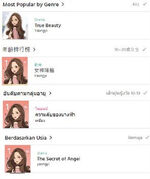 International Releases
International Releases
Language
Title
Release Date
Korean
네이버 웹툰 여신강림
April 2, 2018
Thai
ความลับของนางฟ้า
May 14, 2018
Chinese
女神降臨
June 29, 2018
English
True Beauty
August 14, 2018
References
External links